Zindgi Shayari in Hindi
Kabhi Banti Thi Toh
Kabhi Bigad Kar Baithh Jati Thi,
Tere Saath Zindagi Jaisi Bhi Thi,
Zindagi Jaisi Toh Thi.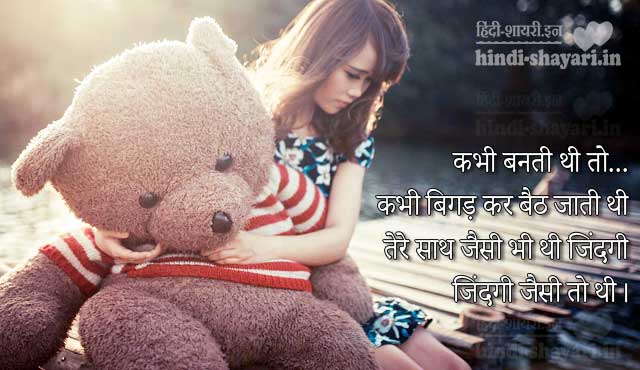 Jab Rooh Kisi Bojh Se Thak Jaati Hai,
Ehsaas Ki Lau Aur Bhi Barh Jaati Hai,
Main Barhta Hun Zindagi Ki Taraf Lekin,
Zanjeer Si Paaon Mein Chhanak Jaati Hai.
Kabhi Dhoop De Kabhi Badliyan,
Dilo-Jaan Se Dono Kabool Hain,
Magar Uss Nagar Mein Na Qaid Kar,
Jahan Zindagi Ki Hawa Na Ho.
Begaane Hote Log Dekhe
Ajnabi Hota Shahar Dekha,
Har Insaan Ko Yahan
Maine Khud Se Hi Bekhabar Dekha.

Rote Hue Nayan Dekhe
Muskurata Hua Adhar Dekha,
Gairon Ke Haathon Mein Marham
Apno Ke Haathon Mein Khanjar Dekha.

Mat Poochh Iss Zindgi Mein
Inn Aankhon Ne Kya Manjar Dekha,
Maine Har Insaan Ko Yahan
Bas Khud Se Hi Bekhabar Dekha.
Aaram Se Tanha Kat Rahi Thi To Achhi Thi,
Zindagi To Kahan Dil Ki Baton Me Aa Gayi !