ट्रक शायरी
Read Truck Shayari in Hindi
मत कर ड्राईवर से मोहब्बत
उसका ठिकाना दूरी होता है
ड्राईवर बेवफा नहीं होता बस
उसका जाना जरूरी होता है।

Mat Kar Driver Se Mohabbat
Uska Thikaana Door Hota Hai
Driver Bewafa Nahin Hota
Bas Uska Jaana Jaruri Hota Hai.
न किसी के हाथ-पैर तोड़े न अपने तुड़वायें,
कृपया गाड़ी धीरे और लिमिट में चलायें।

Na Kisi Ke Haath-Pair Tode Na Apne Tudwayein,
Kripya Gaadi Dheere Aur Limit Mein Chalayein.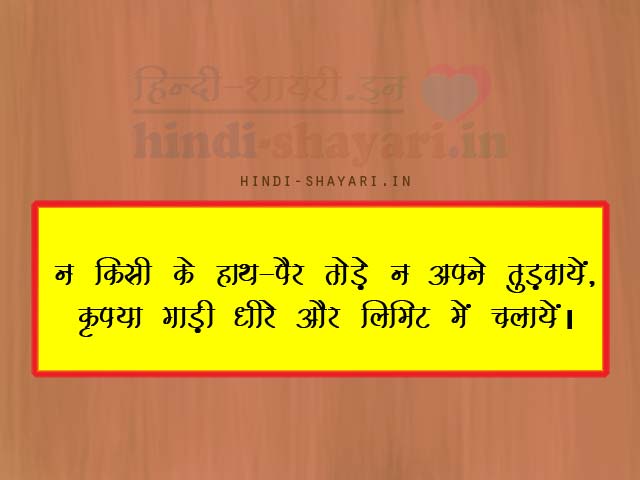 ऐ बुलबुल शोर मत कर आज ग़म की रात है,
आयेंगे तेरे शहर में बस दो-चार दिन की बात है।

Ai Bulbul Shor Mat Kar Aaj Gam Ki Raat Hai,
Aayenge Tere Shahar Mein Bas Do-Chaar Din Ki Baat Hai.
धीरे चलोगे तो घर-बार मिलेगा,
तेज चलोगे तो हरिद्वार मिलेगा।

Dheere Chaloge To Ghar-Baar Milega,
Tej Chaloge To Haridwar Milega.
मैं खूबसूरत हूँ मुझे नजर न लगाना,
जिंदगी भर साथ दूंगी पीकर मत चलाना।

Main KhoobSoorat Hoon Mujhe Najar Na Lagaana,
Zindagi Bhar Saath Doongi Peekar Mat Chalaana.