Attitude Shayari in Hindi
दोस्तों हम आपके लिए एटीट्यूड शायरी (Attitude Shayari in Hindi) और एटीट्यूड स्टेटस (Attitude Status) का एक सर्वश्रेष्ठ संग्रह पेश कर रहे हैं। हमारे इस संग्रह में आप सभी तरह की नई एटीट्यूड शायरी, अकड़ शायरी, औकात शायरी, रॉयल शायरी इत्यादि हिंदी और अंग्रेजी में पढ़ सकते हैं।
Dhool Haalaat ho Har Baar Chataai Maine,
Main Muqaddar To Nahi Rakhta Zigar Rakhta Hoon.
धूल हालात को हर बार चटाई मैंने,
मैं मुक़द्दर तो नहीं रखता जिगर रखता हूँ।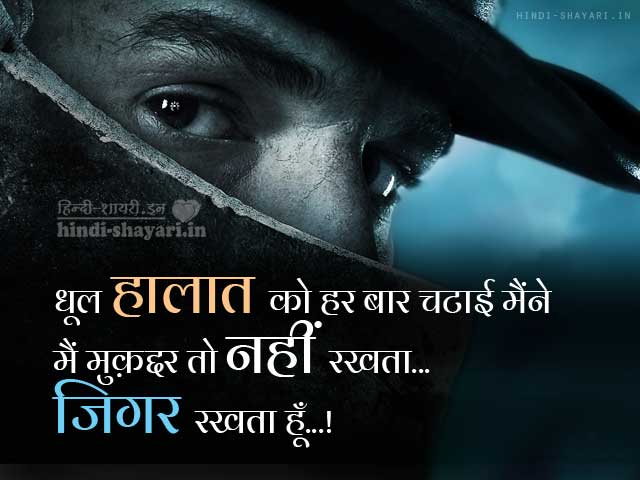 Jo Duniya Chaahati Hai Wo Mujhse Nahi Hoga,
Samjhauta Koi Khwaab Ke Badle Nahi Hoga.
जो चाहती दुनिया है वो मुझ से नहीं होगा,
समझौता कोई ख़्वाब के बदले नहीं होगा।
Aaj Se Badlenge Hum Andaaz-e-Zindagi,
Raabta Sabse Hoga Wasta Kisi Se Nahi.
आज से हम बदलेंगे अंदाज़-ए-ज़िन्दगी,
राब्ता सबसे होगा वास्ता किसी से नहीं।
Attitude is a feeling or opinion about something or someone, or a way of behaving that is caused by this. Everybody want to exress the Attitude to world. Attitude Shayari is the best way to express the royalty of personality. We have a powerful collection of Attitude Shayari in Hindi for Boys, Akad Shayari, Aukat Shayari, Royal Attitude Status for Whatsapp, Negative and Posititive Attitude Shayari etc. So, friends, read our latest shayari about attitude and share on your facebook wall or set as whatsapp DP.
Khuda Salamat Rakhe Unn Aankhon Ko,
Jin Mein Hum Kaanton Ki Tarah Chubhte Hain.
खुदा सलामत रखे उन आँखो को,
जिन में हम काँटो की तरह चुभते हैं।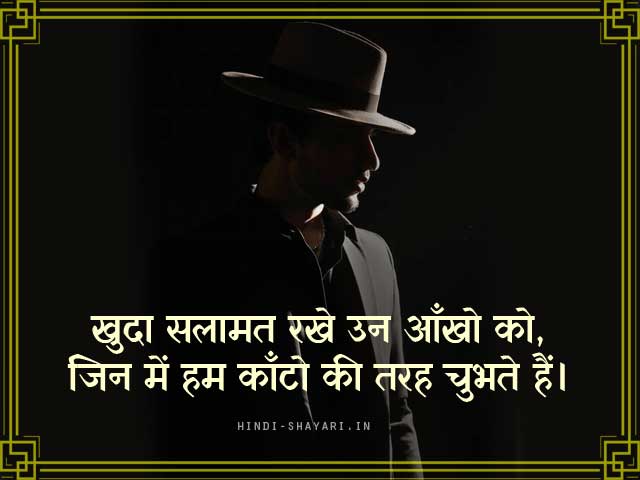 Apni Isee Adaa Par Thoda Guroor Karta Hoon,
Mohabbat Ho Ya Nafrat Ho... Bharpoor Karta Hoon.
अपनी इसी अदा पर थोडा गुरूर करता हूँ!
मोहब्बत हो या नफरत भरपूर करता हूँ..!